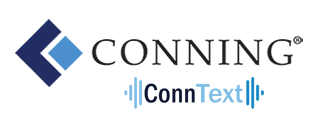 October 22, 2021
Conning ConnText is a quarterly podcast that features our firm's view of capital markets, trends and investment strategies for the insurance industry, hosted by Rich Sega, Conning's Global Chief Investment Strategist. Rich will also host a guest to provide additional insight about a particular asset class, investment idea or insurance industry trend.
Conning ConnText is intended to provide just that: context for insurance investing. Conning's deep understanding of the investment environment and the insurance industry helps us to serve the unique needs of insurers.
Here is our latest Conning Conntext podcast:
October 2021: Volatility in Energy Markets with Marcus McGregor, Director and Head of Commodities (Energy and Basics) Research Team
In the Conning ConnText podcast for the fourth quarter, Rich Sega, Global Chief Investment Strategist, discusses how economic growth is slowing during the second half of 2021 but that opportunities for growth remain. He is joined by Marcus McGregor, a Director leading Conning's energy-related research, who offers a view of the dynamics driving volatility in energy markets.
All investment performance information included in this podcast is historical. Past performance is not a guarantee of future results. Any tax-related information contained in this podcast is for informational purposes only and should not be considered tax advice. You should consult a tax professional with any questions.
For complete details regarding Conning and its services in the U.S., you should refer to our Form ADV Part 2, which may be obtained by calling us.
Legal Disclaimer
©2021 Conning, Inc. This podcast and the software described within are copyrighted with all rights reserved. No part of this podcast may be distributed, reproduced, transcribed, transmitted, stored in an electronic retrieval system, or translated into any language in any form by any means without the prior written permission of Conning. Conning does not make any warranties, express or implied, in this podcast. In no event shall Conning be liable for damages of any kind arising out of the use of this podcast or the information contained within it. This podcast is not intended to be complete, and we do not guarantee its accuracy. Any opinion expressed in this podcast is subject to change at any time without notice.
This podcast contains information that is confidential or proprietary to Conning (or their direct or indirect subsidiaries). By accepting this podcast you agree that: (1) if there is any pre-existing contract containing disclosure and use restrictions between your company and Conning, you and your company will use the information in this podcast in reliance on and subject to the terms of any such pre-existing contract; or (2) if there is no contractual relationship between you and your company and Conning, you and your company agree to protect the information in this podcast and not to reproduce, disclose or use the information in any way, except as may be required by law.
ADVISE®, FIRM®, and GEMS® are registered trademarks in the U.S. of Conning, Inc. Copyright 1990-2021 Conning, Inc. All rights reserved. ADVISE®, FIRM®, and GEMS® are proprietary software published and owned by Conning, Inc.
This podcast is for informational purposes only and should not be interpreted as an offer to sell, or a solicitation or recommendation of an offer to buy any security, product or service, or retain Conning for investment advisory services. This discussion may include predictions, estimates, or other information that might be considered forward-looking. While this content represents our current judgment on what the future may hold, it is not a guarantee and the investment market is subject to risks and uncertainties that could cause actual results to differ materially. You are cautioned not to place undue reliance on the content of this podcast, which reflects our opinions only as of the date of this presentation. Nothing contained herein is meant to be investment advice.