CLOs: Helping Insurers Manage Duration Risk Amid Rising Interest Rates
June 01, 2022
By Paul Norris, Head of Structured Products, Conning
Gretchen Lam, CFA, Senior Portfolio Manager, Octagon Credit Investors
In response to the inflation spike that began in the latter half of 2021, the U.S. Federal Reserve (the Fed) is expected to continue to raise interest rates over the course of 2022 and 2023. Rising rates can present a challenge for insurance company portfolios that typically allocate a significant portion to fixed income securities. However, floating-rate debt instruments (i.e., those with coupons that increase as market interest rates rise) may help mitigate interest duration risk in diversified fixed income portfolios. Herein, we highlight one such floating-rate debt strategy: collateralized loan obligation (CLO) securities, also known as CLO debt tranches.
What is a CLO?
A CLO is a securitization backed by a diversified portfolio of senior secured floating-rate loans (also known as broadly syndicated loans or bank loans) that is financed using proceeds from the issuance of debt and equity securities. CLO debt obligations are divided into rated classes of notes, or tranches, typically ranging in rating quality/seniority from AAA to BB based on prioritization of interest and principal payment. The combined rated notes typically represent 90% of the CLO structure and CLO equity represents the remaining 10%. The broadly syndicated loans comprising a CLO's collateral portfolio are rated below investment grade, generally senior to other outstanding debt within a company's capital structure, secured by the assets of the borrowers, and bear a floating-rate coupon tied to an industry benchmark interest rate that adjusts periodically.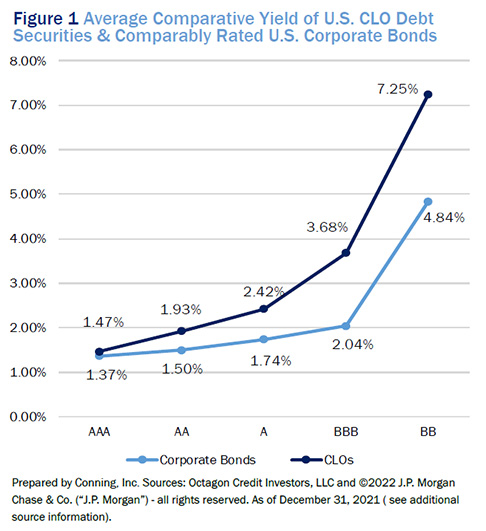 Competitive Risk-Adjusted Returns
CLOs have gained attention from insurers and other institutional investors owing to their competitive yields and the proven resilience of the CLO structure over multiple credit cycles. As illustrated in Figure 1, CLO debt securities currently offer higher yields compared to other types of fixed income securities of similar quality, reflecting the relative complexity, lower liquidity, and regulatory requirements of CLOs. In the nearly 30-year history of the asset class, there has never been a default among a CLO tranche rated AAA or AA. Furthermore, the long-term historical default rate of 0.1% among A-rated tranches supports our view that investment grade CLO debt securities are "risk remote." Compelling yields and comparatively low historical default rates for CLO debt tranches suggest that CLO tranche investors have generally been well compensated for the assumed risk. CLO securities may also offer diversification benefits to an insurer's broader investment portfolio. As Figure 2 demonstrates, CLO securities have a reduced or negative correlation to assets commonly held in insurance portfolios.
Click below to continue reading Conning's Viewpoint, "CLOs: Helping Insurers Manage Duration Risk Amid Rising Interest Rates."