Conning's Corporate Pension Review - 2020: The Pandemic Impact
November 19, 2021
Conning's Corporate Pension Review 2020 examines the financial health of the U.S. corporate defined benefit (DB) industry through the analysis of 563 U.S. corporate DB plans that provided data from the end of 2016 through the end of 2020. In addition, it examines key issues impacting DB pension plans.
EXECUTIVE SUMMARY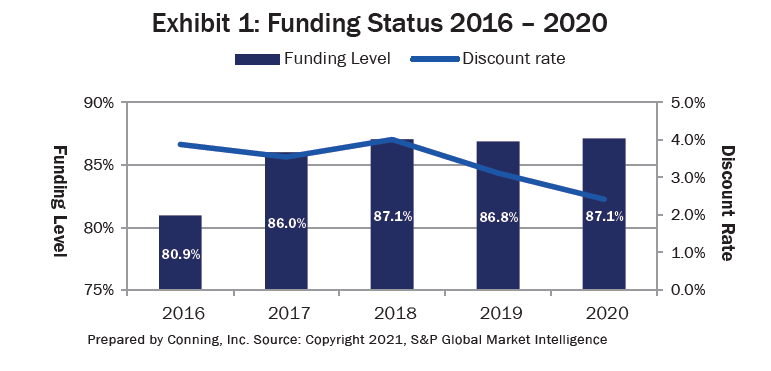 As of September 30, 2021 the average corporate DB pension plan's funded status was 95.5%, an increase from 87.1% at year-end 2020.

In 2020, DB plan financials were impacted by the Covid-19 pandemic's broader effects on equity markets and interest rates. As the economy stabilized (largely due to coordinated government stimulus globally), those effects have lessened, contributing to the improvement in funding status.

The improvement in economic conditions and plan funding statuses has contributed to the resumption of pension risk transfer (PRT) business in 2021.
The onset of the Covid-19 global pandemic brought heightened recessionary fears and rattled equity and bond markets across the globe. While the initial spike in both equity and bond market volatility ultimately subsided, volatility remained elevated relative to pre-pandemic historic lows.
In addition to the pandemic's impact on company financials, the response by central banks to reduce interest rates contributed to a decrease in the discount rate used to calculate pension liabilities. The discount rate reduction was the key driver of the increase in pension liabilities. Market conditions were another factor in the reduction of the expected return on assets to their lowest level over the observation period.
Looking beyond Covid-19's impact, continued increases in Pension Benefit Guaranty Corporation (PBGC) premiums1remain a concern for plan sponsors. Similarly, 2020 reminded plan sponsors of the close relationship between equity market volatility and the amount of their unfunded plan liabilities (UFPL). Those issues drive de-risking efforts such as the implementation of liability-driven investing (LDI) strategies, lump-sum payments to qualified members in order to extinguish liability obligations, and potential PRT transactions.
Having slowed during the first half of 2020, PRT transactions have rebounded. Through September 2021, the number of transactions and the dollar amount of liabilities transferred exceeded 2020's total.
Conning's analysis of the financial results for U.S. corporate DB pension plans in our database found that in 2020 their average funded status increased slightly from the prior year. That said, 2020 continued to represent significant progress from 2016's funded status. The progress was due to certain plan sponsors' continued efforts to trade performance for stability, continue plan contributions, and effectively implement LDI-based glidepaths/journey plans.
Click below to continue reading Conning's Viewpoint, "Conning's Corporate Pension Review - 2020: The Pandemic Impact."
Footnotes:
1 Source: Pension Benefit Guaranty Corporation (PBGC), Premium Rates, last updated Oct. 14, 2021, https://www.pbgc.gov/prac/prem/premium-rates