2022 Outlook: Economy Recovering, But Beware of Heavy Regulatory Hand
October 26, 2021
By Richard L. Sega, FSA, MAAA, Global Chief Investment Strategist
Insurers looking ahead into 2022 are likely to be concerned about an economic and investment environment that offers a lot of uncertainty. There are new highs in stocks, cycle lows in bond yields and spreads, recurring waves of virus variants, central banks in apparent disarray, and political turmoil everywhere. However, despite all these danger signs, we are guardedly optimistic that the current recovery will continue well into the new year.
2021 has been a transition year. Reflation, i.e., the building back from the 2020 depression, was good in Q1. Inflation, the big fear in Q2 and Q3, threatens to be bad. Across the globe we see a transition from a goods recovery to a services recovery, with the United States and China leading the way.
What's next? Do we maintain growth or face stagnation? And either way, is it with or without the scourge of high inflation? (See Figure 1.)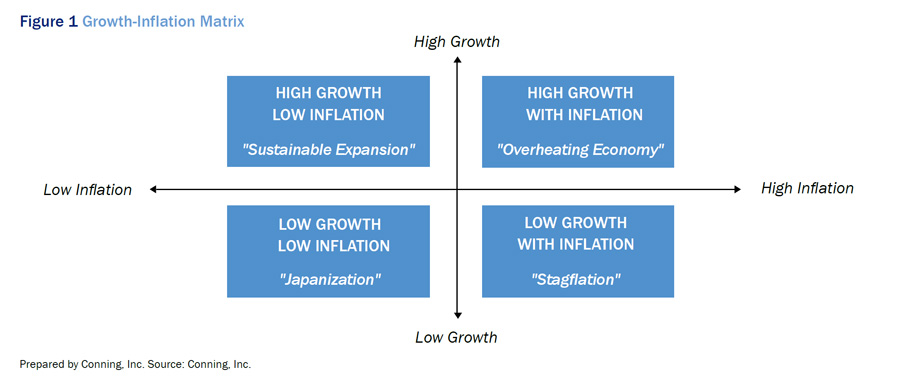 Many are reading the "up" cards (i.e., the current facts) that show some economic growth indicators slowing while inflation is rising. The Delta variant has prompted mask mandates to re-emerge in some areas and returning to school is challenged too; it's logical that the mood of the consumer has been dampened. Further, stress in the Chinese property sector highlighted by default concerns regarding Evergrande threatens global stability. However, we should look at a few of the "down" cards (i.e., unresolved areas of concern).
We believe the rollover from recovery to expansion in the U.S. is well established, built on strong pre-pandemic fundamentals, fueled by substantial central bank support and lavish government spending. Roughly 70% of economic activity in the U.S. is consumer spending. While the U.S. consumer pulled back some over the summer,1 most recent data show that Delta is nearing its peak.2 Employment data continues to improve3 and supply chains appear to us to be on the mend. We expect the slower third quarter growth will prove to be temporary.
Click below to continue reading Conning's Viewpoint, "2022 Outlook: Economy Recovering, But Beware of Heavy Regulatory Hand."



Footnotes:
1 Source: Bureau of Economic Analysis, U.S. Department of Commerce (2021), "Personal Income and Outlays, August 2021," News Release dated October 1, 2021, https://www.bea.gov/news/2021/personal-income-and-outlays-august-2021
2 Source: Centers for Disease Control and Prevention, "COVID Data Tracker Weekly Review," October 15, 2021, https://www.cdc.gov/coronavirus/2019-ncov/covid-data/covidview/index.html
3 Source: U.S. Department of Labor, Bureau of Labor Statistics, "The Employment Situation – September 2021" News Release, October 8, 2021, https://www.bls.gov/news.release/empsit.nr0.htm
Disclosure
©2021 Conning, Inc. All rights reserved. The information herein is proprietary to Conning, and represents the opinion of Conning. No part of the information above may be distributed, reproduced, transcribed, transmitted, stored in an electronic retrieval system or translated into any language in any form by any means without the prior written permission of Conning. This publication is intended only to inform readers about general developments of interest and does not constitute investment advice. The information contained herein is not guaranteed to be complete or accurate and Conning cannot be held liable for any errors in or any reliance upon this information. Any opinions contained herein are subject to change without notice. Conning, Inc., Goodwin Capital Advisers, Inc., Conning Investment Products, Inc., a FINRA-registered broker-dealer, Conning Asset Management Limited, Conning Asia Pacific Limited, Octagon Credit Advisors, LLC and Global Evolution Holding ApS and its group of companies are all direct or indirect subsidiaries of Conning Holdings Limited (collectively "Conning") which is one of the family of companies owned by Cathay Financial Holding Co., Ltd. a Taiwan-based company. ADVISE® is a registered trademark in the U.S. of Conning, Inc. Copyright 1990-2021 Conning, Inc. All rights reserved. These materials contain forward-looking statements. Investors should not place undue reliance on forward-looking statements. Actual results could differ materially from those referenced in forward-looking statements for many reasons. Forward-looking statements are necessarily speculative in nature, and it can be expected that some or all of the assumptions underlying any forward-looking statements will not materialize or will vary significantly from actual results. Variations of assumptions and results may be material. Without limiting the generality of the foregoing, the inclusion of forward-looking statements herein should not be regarded as a representation by the Investment Manager or any of their respective affiliates or any other person of the results that will actually be achieved as presented. None of the foregoing persons has any obligation to update or otherwise revise any forward-looking statements, including any revision to reflect changes in any circumstances arising after the date hereof relating to any assumptions or otherwise. C:13737426A