Reports
Access our digital reporting services, including Strategic Studies, Insurance Segment Reports, and Forecast & Analysis reports.
Presentations
Make the most of presentations and webinars on-demand with key findings from Conning's insurance research reports.
Data
Benefit from Conning's data series, available digitally for licensees. This includes detailed income statement, balance sheet and underwriting metrics from our forecast services.
---
With over 10,000 registered users at more than 125 insurance industry firms, Conning Library is a web-based portal for enterprise-wide sharing of Conning's insurance research publications, presentations and data at all your locations. Conning Library provides "anytime, anywhere" access to both current and archival insurance research.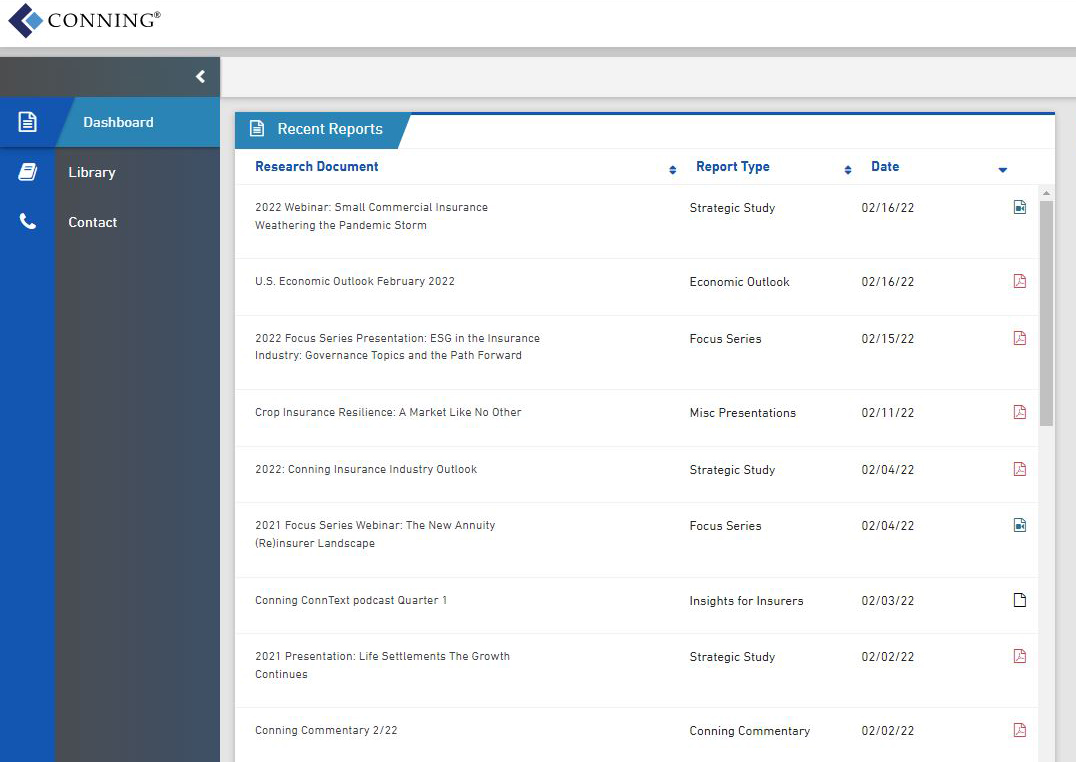 With our web-based service, you can achieve enterprise-wide utilization without complex installation or IT department involvement.
Key features and benefits of a Conning Library license include:
• Anytime, anywhere access for all registered employees
• "First look" at all new research
• Emailed notifications of new publications available on the site
• New research available to all registered users at the same time
• Total industry or discrete Property-Casualty or Life-Annuity content licenses
• Twenty-five year archive access
• Self-Registration
• Detailed usage reporting
Other industry firms gain a competitive edge from access to Conning's critical industry information and research. Isn't it time your organization did the same?
For more information on Conning Library, please call Alyssa Gittleman at 888-707-1177 or email InsuranceResearch@conning.com